Options and Accessories
Auditorium Seating Aisle Light
Armless Cap
Poly Arm
Wood Arm
Flip-Up Wood Arm
Poly Back
Upholstered Back
Wood Back Panel
Drink Holder
Wood Card, Cup and Pencil Holder
Wood Book Holder
Wood and Metal Book Holder
Wood and Metal Card and Pencil Holder
Poly Book Holder
Poly Card and Cup Holder
Straight Floor Mount
Offset Mount
Clarity™ and Vista auditorium seating arms are available in 3 styles. Including stationary, flip-up and also armless. Flip-up arm and armless options allow easy exiting, and are also ADA compliant. Tablet arms can be added as a writing surface when needed for taking notes during sermons. Back panels are available with upholstery, wood and also poly.
Auditorium accessories attach right to the seat, so that worshippers have what they need in reach. We offer book racks, communion cup holders, as well as card and pencil holders. Available in wood or poly, as well as various sizes. We have the perfect combinations to serve your worship community, while offering many different finish and fabric options available. Drink holders, seat identification, row identification and aisle lighting are options that are also available.
Download Auditorium Brochure
Download Auditorium Seating Selector
Gallery
Lenexa Baptist Church - Lenexa, KS
Malibu Presbyterian Church - Malibu, CA
Glad Tidings Church - West Lawn, PA
Glad Tidings Church - West Lawn, PA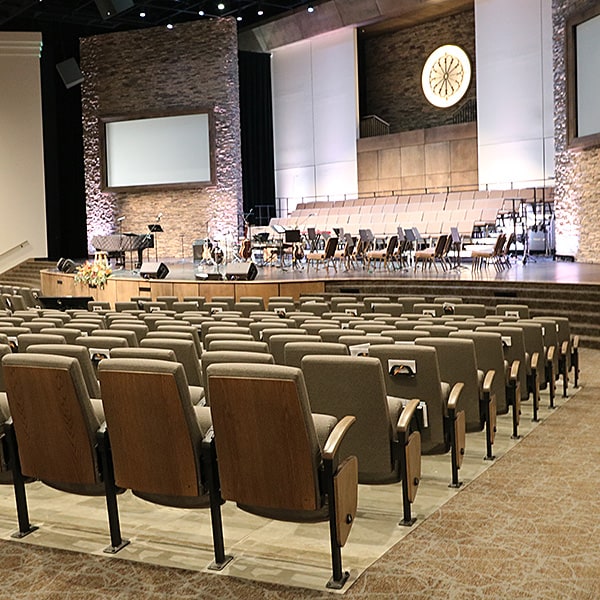 First Baptist Church - Russelville, AR
Boca Raton Community Church - Boca Raton, FL
Our team is here to help with questions. Let us know how we can assist.