Customer Testimonials
Customer satisfaction is number one at Sauder Worship Seating. We do everything we can to make sure our customers are completely satisfied during the entire purchasing process. From beginning to end, and beyond. Below are testimonials from customers that we have worked with. Take a look at what they have to say.
— St. Regis Catholic Church – Bloomfield Hills, MI
---
"Our project was total remodel of our sanctuary. At that time, we went from pews to theatre style seating which included 1400 seats. Our Sales Rep is Ben Bradshaw. And I can't tell you how pleased we were with the level of service we received from Ben. The project was drawn out due to some unforeseen construction issues. Sauder did an amazing job of being flexible with our ever-changing timeline, helping us meet our deadline. The seats that we have now not only look great in our sanctuary. But are also extremely comfortable. Based upon our experience with Sauder, we would use them again. And highly recommend them to anyone in the market for church seating. "
— First Baptist Church – Richardson, TX
---
"Our Sales Rep Kevin Carrier was excellent, as was the product, price and quality!"
— Congregation Agudat Achim – Schenectady, NY
---
"Good product, responsive service."
— St. Charles Borromeo Parish – Portland, OR
---
"From the very beginning stages your company showed professionalism and trade skills. Doug Graber was accommodating and thorough. He made sure that all the measurements were exact before starting to manufacture. Once the pews arrived, from the offloading of the materials to the final installation, Mike and his crew were knowledgeable and efficient. I would highly recommend your company in the future to any other church that may require your services."
— St. Lucie Catholic Church – Port St. Lucie, FL
---
"My experience with Sauder Worship Seating on behalf of my church, West Concord Union Church, have been very satisfactory from meetings and discussions. To my questions with Sauder employees on the phone in Ohio. At every point they were responsive and knowledgeable. We are very pleased with the chairs too."
— West Concord Union Church – Concord, MA
---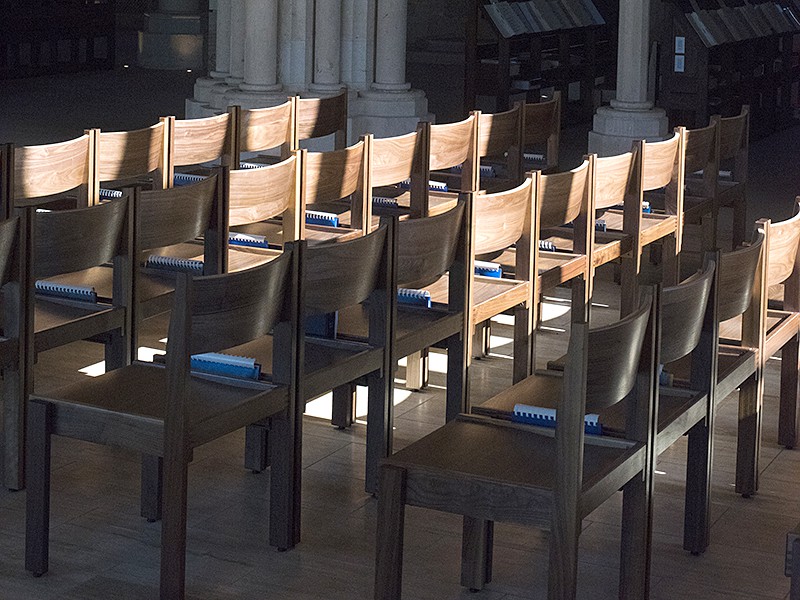 "Sauder Worship Seating was prompt and helpful whenever we called with questions."
— Abbey of New Clairvaux – Vina, CA
---
"We had a very good relationship during the process. Mr. Harris worked very hard to satisfy our needs (I am hard to satisfy) on every issue. The installation crew was great. They did excellent work and kept their schedule."
— Canaan Baptist Church – St. Louis, MO
---
"Good quality, prompt service."
— Lakeview United Church – Calgary, Alberta
---
"Quality product and top notch service!"
— Floyd Municipal Court – Rome, NY
---
"I have been totally happy with the interactions I have had with everyone on the Sauder team. Kevin Carrier set the tone with his willingness to work with us through all our deliberations on fabric, wood color, and ultimately the delivery date for our chairs. He was so accommodating and pleasant to work with."
— Christian Community Church – Monsey, NY
---
"Good quality product and excellent installers!"
— Church at Charlotte – Charlotte, NC
---
"Outstanding customer service from beginning to installation. Outstanding product quality."
— Harborside Christian Church – Safety Harbor, FL
"Our Sauder representative was cordial, helpful, patient and professional. They went out of their way to expedite our pews. They communicated with us throughout the process and were quick to respond to our many questions. We are extremely happy with the new pews. Thank you to all."
— Evangelical Reformed Church – Tacoma, WA
---
"Quality and use of North American labor and materials so that they are made fairly."
— Dayton Friends – Dayton, OH
---
"The quality of the pews is amazing. The staff from Sauder was responsive and easy to work with in all phases of the project – design to install."
— Crossroads Community East Side – Cincinnati, OH
---
"Excellent customer service from the beginning to the end of the project."
— Murrieta Juvenile Courthouse – Murrieta, CA
---
"Great customer service and great sales person!"
— Worthington Presbyterian – Worthington, OH
---
"The suitability of the frontals to our needs, the quality of the frontals and the readiness of the sales representative to assist with placing the order."
— Diocese of Richmond – Richmond, VA
---
"Excellent sales support, great follow-up after we placed our order, meeting our delivery needs. And good communication about actual delivery."
— Temple Beth Shalom – Sarasota, FL
---
"The quality of the Vantage chairs met our expectations. The sales rep was very helpful in providing samples to help us with our choice."
— Calvary Baptist Church – Harlingen, TX
---
"Sauder was very responsive and accommodating to our needs and requests as far as changes in orders and change in delivery date."
— Kirkwood United Methodist Church – Kirkwood, MO
---
"The people are helpful and easy to work with. The quality kneelers where delivered on time."
— Our Lady of Lake Catholic Church – Hendersonville, TN
---
"The pews, frontals, and service are great."
— St. Mary Catholic Church – Biloxi, MS
---
"Quality of the Definity pews, the choices available. And assistance from the Sauder Worship Seating home office."
— First Church of Christ Scientist – Ft. Collins, CO
---
"The comfort of the Vantage chairs. The courtesy and responsiveness of the sales representative Boyd Smith. And the fact that he did not pressure us. The speed and accuracy and delivery."
— Bethel the Height Synagogue – Cleveland Heights, OH
---
"The quality of the pews is great and the workers are polite."
— St. Margaret Church – Rumford, RI
---
"When our Vantage chairs arrived they were very good quality. And we look forward to comfortable seating for many years."
— First Baptist Church – Bryan, OH
---
"Boyd Smith is excellent as is the quality of the Vista auditorium seating."
— Bethel Life Worship – Greenville, PA
---
"The pews and loose cushions came in on time and in good condition at a fair price. We plan to place another order soon."
— First Presbyterian Church – Granbury, TX
---
"The quality of workmanship and the timely delivery."
— Christ the King Church – Springfield, IL
---
"A good sales representative with quick responses to questions. Combined with the communication to the factory advising and delivery schedule until the truck arrived."
— Prince of Peace Lutheran Church – Martinville, IN
---
"Exactly what we were wanting from start to finish."
— North Greenwood Baptist Church – Greenwood, MS
---
"The staff I dealt with were very professional, accommodating, informative, and very easy to work with. The products are of exceptional quality."
— Trinity Lutheran Church – Waupaca, WI
---
"They were awesome to work with, from all the little details and spec's to shipping. They showed an interest in us and how best to serve us. Thanks."
— St. Andrew Lutheran Church – Mathomedi, MN
---
"Sauder's team did an excellent job in presentation, communication throughout the process, on time delivery, and installation of an outstanding product."
— Coweta Assembly of God – Coweta, TX
---
"Ease of ordering with Cavin bringing sample pews to us. Working on our timeline, and delivery/setup, all made it a great experience. I would recommend all of it in a heartbeat!"
— First Presbyterian Church – Perry, OK
---
"Sauder provided our church furniture when we built the new church 12 years ago. We are very pleased with what we purchased then and wanted the new pieces to match. Our order was handled professionally and delivered on time."
— St. Therese Catholic Church – Ft. Wayne, IN
---
Church pews were delivered on time, were as expected, installation crew did a terrific job. Everyone was impressed. It doesn't get any better than this!"
— St. Rita Catholic Church – Dade City, FL
---
"Very nice furniture and great install. Salesman was helpful and factory tour was informative."
— Trinity Lutheran Church – Fenton, MI
---
"Our pews are beautiful, order was perfect and accurate. Installers were great and did a fine job for us."
— Abiding Hope Lutheran Church – Erie, PA
---
"Everything about working with Sauder was positive. Very attentive and honest to work with."
— Wichita Seventh Day Adventist – Wichita, KS
---
"The service was excellent from the first contact through the installation. Beth Pelok was especially helpful."
— Luther Preparatory School – Watertown, WI
Our team is here to help with questions. Let us know how we can assist.